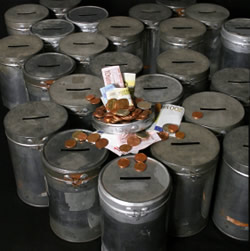 No matter how much you love what you do, without fundraising, your time is limited.Fundraising consultants are a valuable and clear-eyed resource for evaluating your nonprofit's fundraising needs and helping it achieve its objectives. In fact, we look at past and current results and ask: what's been working? What hasn't? Why? Then, we get to work for you evaluating your grant writing, identifying potentials for major gifts, and creating and even planning and managing full-on capital campaigns. If you are ready to make this year your best year ever, call us for a completely customized approach to fundraising for your nonprofit.
Here are a few areas of expertise:
Innovative products and services that drive interest and income. Innovation is the lifeblood of any nonprofit. Ask America's Interests to assist you with structured ideation sessions, researching similar or competitive offerings, and then recommending new areas for products and services. Our leadership understands what works in the community and how it impacts both your fundraising and volunteer efforts. We're ready to help your organization.
Cutting edge social media and email strategies for real results. Nonprofits were among the first organizations to embrace cutting edge tools and techniques to market their services, to fundraise more effectively and to reach and cultivate volunteers. Our expertise includes a full suite of social media and email strategies to reach donors and sponsors in new and effective ways. In fact, we specialize in cross-channel promotion, extending your brand across online and offline channels, including text, social networks, blogs, microblogging, geo-location services, QR codes, and more. Don't be left behind. Leverage these tools today to more effectively and efficiently fundraise. Ask us how.